Surrey and Hampshire Makerspace is located inside The Boileroom music and arts venue – 13 Stoke Fields, Guildford GU1 4LS.
Parking
Note that parking in the streets around the Boileroom is restricted until 6pm, but there are various bays that are 2-hour parking.
Here are some of the bays that can be parked in for up to two hours during the day – all others are residents-only. (Click to enlarge)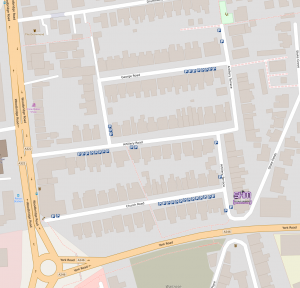 Alternatively, a few of our members park in the nearest public car park – York Road. Any time before 5pm, this is £1 per hour. After 6pm, it's £1 for the entire evening (so far tested to 2am!), and only a short walk down York Road to the Boileroom.
Public Transport
The Boileroom is well served by Guildford's two train stations, which are both around a 7 minute walk to the space. Both are served quite well by a variety of train services.